Post by Tilly on Apr 1, 2018 20:00:30 GMT
Echospots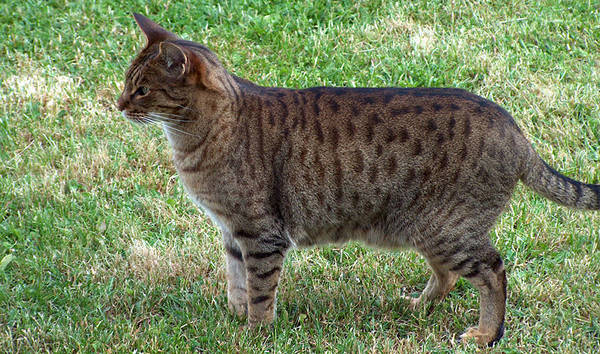 the basics
name: Echospots

age: 4 years

sex: XX

gender: agender

sexuality: Pansexual

clan: WindClan

rank: Queen

adopted?: Created from scratch



base coat: Black

tabby markings: Spotted

white markings: None

eyes: Hazel

differences: Scars across chest and a notch in the ear.

allegiance: A dark brown spotted monarch with pale green-grey eyes and distinct scars across their chest.

full description: A black-based spotted tabby cat with a relatively large belly for their size. Almond-shaped hazel eyes with a distinctly long, fat tail, adorned with a black tip. Their muzzle is a soft white, as is common in black tabbies. Dainty, small paws with treacherous white claws, and long teeth.


relations
biological mother: Sparrowleap, tom, dead; tortoiseshell tom with faint speckles dark green eyes.

biological father: Rushpad, genderfluid, alive, will be up for adoption; black tom with small white paws.

Vinekit; black female kit with dark yellow eyes and little mackerel stripes. alive, adoptable.
Rainkit; grey male kit with pale green eyes and stripes on his face and tail. alive, adoptable.
Cinderkit; grey female kit with white paws and blue eyes. deceased.
Seedkit; black tabby tom kit with blue eyes. deceased.

personality

positive traits:
+CONSIDERATE. They are always conscious of other cats, and makes sure that all of their actions are in the interest of other cats being comfortable around them. Everything they're told is taken very seriously when it comes to the comfort of another cat.
+CHEERFUL. It's very difficult to get Echospots down, and they try to see the good in everything possible!
+NURTURING. Being a monarch is difficult work, and it is through this work that Echospots has discovered their knack for caring for other cats. They almost act like a Clan parent.


negative traits:
-VIOLENT. Echospots doesn't fight much, but when they do they are a brutal beast that takes no prisoners. When they fight they go into a state of 'kill or be killed,' and it can be very traumatic for them to come out from.
-STUBBORN. Despite being a caring cat, Echospots rarely ever backs down on their thoughts, opinions, or ways. It takes something catastrophic to actually change their mind on anyone's volition but their own.
-ARROGANT. Echospots is very self-assured. They are a confident cat, but sometimes this can rear its head in the form of abrasive security. Though they never mean it, this can put cats down terribly, especially if they're insecure.

other traits:
~AMBITIOUS. Echospots is a cat who is never satisfied being in the same place with the same duties. They always strive to be higher than they were the day before.
~SELFISH. Echospots loves to keep things for themselves, and when something is theirs, they will keep it safe at all costs. This can manifest in an all-encompassing need to protect their Clan, or it can lead to them hiding prey in the thick of leafbare for themselves.
~RESTLESS. Echospots can never really sit still for long. They are a total workaholic. They will do anything to keep moving, from replacing nests to kit-sitting to going on long patrols or hunting by themselves. Unfortunately this often results in them totally passing out in the most inconvenient (or dangerous) places.


history
ECHOKIT-
Echokit was so-named due to being nearly identical to Sparrowleap's mother. She was an only kitten, though the medicine cat of the time had expected a much larger litter. There were whispers that her mother's stress in life caused several kittens to reabsorb into him, there was no real evidence of it. All that was known was that he loved Echokit with all his might, and would never let her go for anything. He constantly surveyed her life and ensured she never got into anything too dangerous, especially as she struggled to become more independent of him.

ECHOPAW-
When Echopaw became an apprentice, her world began to radically change. Where Sparrowleap once had a huge part in her life, he now wanted very little to do with her. He left her to her own devices most of the day, only coming forward to ask how her training went and ask her mentor, Minnowtail if she had been learning at a normal pace. Rushpad tried to fill in Sparrowleap's gap, but it didn't work, and Echopaw felt very lost.

Midway through her apprenticeship, Sparrowleap died. It was a mysterious death, and to this day it's relatively unclear how he died. The sudden loss caused a chain reaction in Echopaw, and shortly afterward she came out as agender, and requested to be referred to as they/them from now on. Without the burden of bearing a false identity, Echopaw's training became much easier and they had a far easier time talking to their peers, especially after they managed to get into the habit of calling them by their true pronouns.

Minnowtail noticed a sudden uptick in their abilities, and when they reached 18 moons old, they decided it was time for Echopaw to become a Warrior.

ECHOSPOTS-
Echopaw's warrior assessment went well, and they bore the new name Echospots, so dubbed because their fur pattern made them impossible to see for prey animals such as mice and rabbits, breaking up their outline and giving them more time to stalk closer and faster. Their sire Rushpad could not have possibly been prouder, and cheered their name the loudest.

Echospots recently had kits with one of their peers, and turned up pregnant. This was a time of rejoicing for them, even though the looming threat of having kits in Leafbare was nearly blinding. They grew fat with kittens and they were eager to give back to their Clan in the form of well-raised children, and they were determined to give them a good life.

They had their children at a very unfortunate time, when the conflicts were hitting a peak and the high ranks were all dying. The tensions caused the death of two of her newborn kits, Cinderkit and Seedkit, and she mourned terribly.

PRESENT DAY-
Echospots' remaining kits, Vinekit and Rainkit, are still alive and 3 moons old.